At Clara Bog Visitor Centre we offer walks, talks, workshops and other educational activities for adults and children. Please see our section on Education Services or view our 'Posts' for  further information.  As opening times vary we recommend that you contact us before visiting.  The boardwalk at Clara Bog Nature Reserve is open and accessible all day all year round and is 1.5 km from the visitor centre
We are located just 10 minutes off Exit 6 on the M6 motorway.  We are also just 10 minutes from Kilbeggan, Tullamore and Athlone.  The Centre has free car parking, with bus parking available on request.  Please note that the car park at the centre closes at 5 pm Mon – Friday.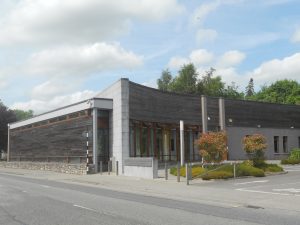 We are less than a 5 minute walk from Clara Railway Station.  Visitors can reach Clara Bog Nature Reserve and Boardwalk by walking or by car.  It is located 1.5 kms from the visitor centre on the Clara – Rahan Road.  There are parking bays and bicycle rack available at the Boardwalk.  For information on Clara please see www.claraoffaly.ie
Tel: 057 9368878
E-Mail: claraguides@housing.gov.ie
Address: Clara Bog Visitor Centre, Ballycumber Road, Clara, Co. Offaly – R35 T621
Latitude: 53.341923   Longitude: -7.617452
N – 53 20 30.932    W –   7 37 12.827
Clara Bog Visitor Centre is open on a seasonal basis and will be open from May until November 30th 2017. Please be advised that we cater for booked groups and on occasion the visitor centre may be closed during operational hours.  It is advisable to book your visit or to phone us ahead of your arrival. Subject to staff availability it may be possible to book a tour at weekends and Bank Holidays.   Please note that the boardwalk at Clara Bog Nature Reserve is open daily and accessible all year round.  
Opening Hours
Monday:                 10:00 a.m. – 17:00 p.m. 
Tuesday:                 10:00 a.m. – 17:00 p.m. 
Wednesday:            10:00 a.m. – 17:00 p.m. 
Thursday:               10:00 a.m. – 17:00 p.m. 
Friday:                    10:00 a.m. – 17:00 p.m. 
Saturday:                Closed
Sunday:                  Closed
Bank Holiday           Closed
In order to view the video, you will need to have accepted "All Cookies". You can do this by clicking the "Cookie Settings" button and reloading the page.