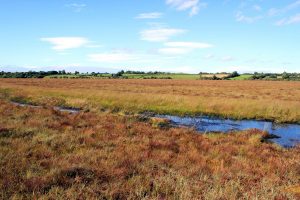 "In morning's youth I look across this land so fresh and quiet and all my senses full enjoy this beauty bogland sight" 'On Clara Bog' by Drigin Gaffey
Clara Bog is the finest remaining example a raised bog in Ireland today  Raised bogs once covered 310,000 hectares in Ireland but today just 7% remains intact.  This forms over 50% of the remaining area of uncut raised bog in North West Europe.
Clara Bog Nature Reserve is 464 hectares of raised bog with evident lag and soak systems. The nature reserve is home to many protected wildlife species. The installation of a 1 km-looped  timber boardwalk with interpretive panels at Clara Bog has provided for local recreation and tourism.  The site is protected under a number of national and international designations including National Nature Reserve, a Special Area of Conservation, Ramsar Wetland Site, Natura 2000 site, and Natural Heritage Area.  Clara Bog Nature Reserve and Visitor Centre are managed by National Parks and Wildlife Service of the Department of Arts, Heritage and the Gaeltacht.
Clara Bog Visitor Centre is 1.5 km from the nature reserve which is located on the Clara-Rahan Road.  Visitors can park at the Visitor Centre and walk to the nature reserve, alternatively there is an area for cars at the nature reserve.  The centre is just a 5 minute walk from Clara train station and just 10 minutes from the M6 motorway.  Please note that opening times at the Centre may change, so it is advisable to check ahead of your visit.  The nature reserve boardwalk trail is open and accessible all year round.
Tel: 057 93688 78   Email: claraguides@housing.gov.ie
Address: Clara Bog Visitor Centre, Ballycumber Road, Clara, Co. Offaly – R35 T621